I really enjoyed reading
The Long Way To A Small Angry Planet.
It's a beautifully written feel good story about a small crew onboard a ramshakled space ship called the
Wayfarer
. The crew of the
Wayfarer
, who build hyperspace tunnels between worlds, aren't on an epic journey to save the galaxy they are on a year long journey to fulfil a very big contract which will set them up for life.
As the ship travels from point A to Point B, the place they will create and anchor the hyperspace tunnel, they visit various places of significance for each crew member. From small moons with large insects to bustling multicultural space ports which sell anything your heart desires, including soap. Along the way we get to know the crew of the ship and watch them grow and change over their year long journey.
And that's the story if you're looking for a plot driven story this is not the book for you.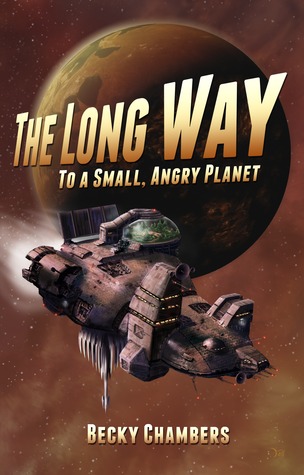 Even though it was sold to me as a
Space Opera
or an
Epic Journey
it's more a
Road Trip
story. The crew do face disasters like pirate attacks (which they handle nicely) and bad border crossings (this was my favourite part of the book) but these crises are used to push character development more than push a plot. The plot only seemed to exist as a backdrop for their interactions.
Similar to the crew of
Firefly
or the crew of the
Ketty Jay
, the crew of the
Wayfarer
reminded me more of a dysfunctional family than the well trained space ship crews you encounter in
Military Sci-Fi
. In one scene we see the sparks fly between two of the crew members who are arguing over the ships internal temperature setting much like Sheldon and Leonard in '
The Big Bang Theory
' not something we'd see in
Star Trek
.
Chambers writing is engaging and I liked the way her characters interacted with each other. Each crisis allowed us to learn more of the crews backstory and provided them with motivation to grow in their understanding of themselves and each other. I also enjoyed learning more of the universe they existed in, this was revealed piecemeal throughout but the way it was revealed made it seem real and authentic.
It is what science fiction used to be like before the
Star Wars
type epics became popular. The story explores many aspects of human nature like gender, race, politics and sexuality. It did get a bit preachy in places and bordered on faintly patronising at times when reflecting on 20th-21st century sensibilities, however I accepted that as this is something we do today as well, when reflecting on our own history so why would future humans be any different? (i.e: I can't believed they did X in 1908, how unenlightened.)
Finally, one thing to be wary of is that because this book is exploring sexuality, as previously mentioned there is a small amount of alien-human sex scenes. They aren't too explicit and are consistent with the type of scenes can be found in a lot of other Science Fiction books.
All up I found it a pleasure to read.
Interested? Get yourself a copy by clicking here
:
The Long Way To A Small Angry Planet.
The Long Way to a Small, Angry Planet (Wayfarers)
by Becky Chambers
A rollicking space adventure with a lot of heart
When Rosemary Harper joins the crew of the Wayfarer, she isn't expecting much. The patched-up ship has seen better days, but it offers her everything she could possibly want: a spot to call home, a chance to explore the far-off corners of the galaxy, and some distance from her past.
And nothing could be further from what she's known than the crew of the Wayfarer.
From Sissix, the exotic reptilian pilot, to Kizzy and Jenks, the chatty engineers who keep the ship running, to the noble captain Ashby, life aboard is chaotic and crazy—exactly what Rosemary wants. That is until the crew is offered the job of a lifetime tunneling wormholes through space to a distant planet. Sure, they'll earn enough money to live comfortably for years, but risking her life wasn't part of the job description.
The journey through the galaxy is full of excitement, adventure, and mishaps for the Wayfarer team. And along the way, Rosemary comes to realize that a crew is a family, and that family isn't necessarily the worst thing in the universe… as long as you actually like them.
The links will be affiliate links, so if you going to make a purchase at Amazon I'd appreciate you using the link. Doing so will help me buy more books so it should be a win-win for us both.

Enjoy reading more and thinking more... with your favourite beverage!
Liked what you read? Why not...
Then head over to my
Facebook
page
The BistroMath
to join the conversation. You can also follow me on
Twitter
or
YouTube.
To do so click on the images below.